Prepared by Lucia Valente
FUTA Mission:
To promote technological advancement by providing conducive environment for research, teaching and learning engenders development of products that are technologically oriented, self-reliant and relevant to society.

Our visit to FUTA and the invitation to present are aligned to its core Mission. My contact in Nigeria, Olumuyiwa Omole introduced me to Adu Oluwafemi (Femi) at FUTA and we shared many discussions by phone and email during the past few months. Femi obtained a formal invitation for us from the Vice Chancellor and we spent the afternoon with several Faculty and students at FUTA.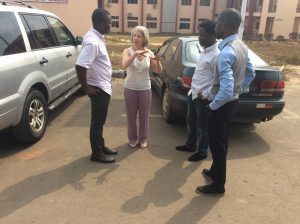 During my trip to Nigeria, the key theme that I received from the Deans and Professors with whom I met is that the education focus in Nigeria is to graduate students who have tangible skills. They are focused on the future – with a strong desire to prepare students for the emerging economy in Nigeria. They understand the tremendous changes underway in Nigeria and the rapidity of change, due mainly to technological change and also, most importantly, the population 'boom' in Nigeria. With 40% of the Nigerian population under 18, the society will experience explosive change.
Having listened to the challenges faced by educators, I note that Nigeria provides a high quality of education at the High School and University levels. Educational institutions in Nigeria graduate well-educated students – that is not the issue. The key issue identified is the specific skills that these graduates have – or do not have. Currently there is a skills gap between what Nigeria requires now, and in the future, and the skills of graduating students. This gap is widening – and is viewed by the educators with whom I met as the biggest challenge they are facing currently.
Discussion with Adeloye Tolulope (Tolu)
They are interested in the work of CCN because our Education Methodology advocates and deploys educational solutions that deliver tangible knowledge and skills to students. CCN does so using advanced Cloud Technology with ease of accessibility and cost effectiveness.
When we present to an institution, the experience is so much richer when students are invited and this was our experience at FUTA. Several of the students who attended the presentation made interesting observations and are highly receptive to using Cloud Technology on mobile devices as part of the learning methodology.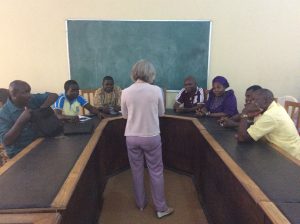 Femi is in the Faculty of Science with a specialty in Biochemistry. As a result, the majority of the participants were from the School of Sciences with many questions during the presentation pertaining to Life Sciences. CCN deploys powerful Computational Technology to Education that permits high Quality Animations, Visualizations and Variations which are not only suited to Life Sciences, CCN and provide a powerful solution with ease of deployment on mobile devices and Cloud-based Technology.